Another analysis of the Mayweather-Pacquiao megafight
Photo courtesy of USA Today
The boxers, and their remarkable records, initially built up what is to be this era's
Fight of the Century
in the persons of Manny Pacquiao and Floyd Mayweather, Jr. The third "Fight of the Century" in the boxing world, labeled as Battle for Greatness in the Philippines, ended up as another unanimous decision victory for Floyd Mayweather, Jr. One judge scored 118-110, and the remaining two scored 116-112, all in favor of the betting favorite. Mayweather, now the undisputed welterweight champion for unifying the WBA, WBC, and WBO belts, won 22 of his 48 fights as decision victories. Whoever won, however, the two boxers will split the guaranteed $300 million kitty in a 60-40 manner. Mayweather earns 60%, while Pacquiao 40%. If one cannot easily grasp the magnitude of the prize, let us just say that the guaranteed kitty is equivalent to 14% of the Philippine defense budget for 2010. This, however, does not include additional earnings from PPV (pay-per-views), advertisements, and other related factors.
Photo courtesy of USA Today
The earlier "Fights of the Century" were that of Joe Louis (United States) against Max Schmeling (Germany) in the 1930s, and Muhammad Ali against Joe Frazier (United States) in the 1970s. Besides breaking the money records, the Mayweather-Pacquiao fight featured the first Filipino, and the first Asian, to participate in another "Fight of the Century." While the supposed megafight (or superfight) seemingly regressed into a "lackluster" battle, one should not forget the basic principle of boxing:
to hit without getting hit
. In this, Mayweather presented himself as, and perhaps even deserves to be, an example to boxers the world over. Although, his claim to be TBE -
The Best Ever
- simply does not speak of the truth. More likely, boxers both from the past and from the future will protest against this claim, especially since we do not know what the future holds. History is not a discipline that predicts the future. Better seek fortune-telling and the like.
Photo courtesy of USA Today
As for Manny Pacquiao, there is nothing to be ashamed of in his performance. He is also an example worthy to be followed by boxers worldwide. His even reaching the welterweight class from the flyweight class is achievement enough. Even the renowned Gabriel "Flash" Elorde did not manage to break through the lightweight class. A factor in his performance, though, was the shoulder injury that kept him from maintaining his combinations and executing his sidesteps. It greatly reduced the volume of punches Pacquiao throws. Despite this dilemma, he soldiered on, as he claimed, not for men but for God.
While he did manage to chase Mayweather all across the ring, speed does not literally translate to power as it is difficult to land punches while moving at such a high-speed battle. What surprised many were the judges' scores and the later released CompuBox statistics. Mayweather apparently won in a dominating fashion, as if he recorded a knockdown in the process. While the eyes of the judges may be wrong, or as some people claim, put the scores on the wrong columns, there would only be little error when it comes to computer statistics such as CompuBox. These little errors in the CompuBox may include counting Mayweather's punches while holding (which the referee surprisingly did not deduct a point), or perhaps the usual statistical margin of error that ranges from 1% to 5%. Also, CompuBox is not forecasting who would win, but merely counting the punches thrown throughout the match.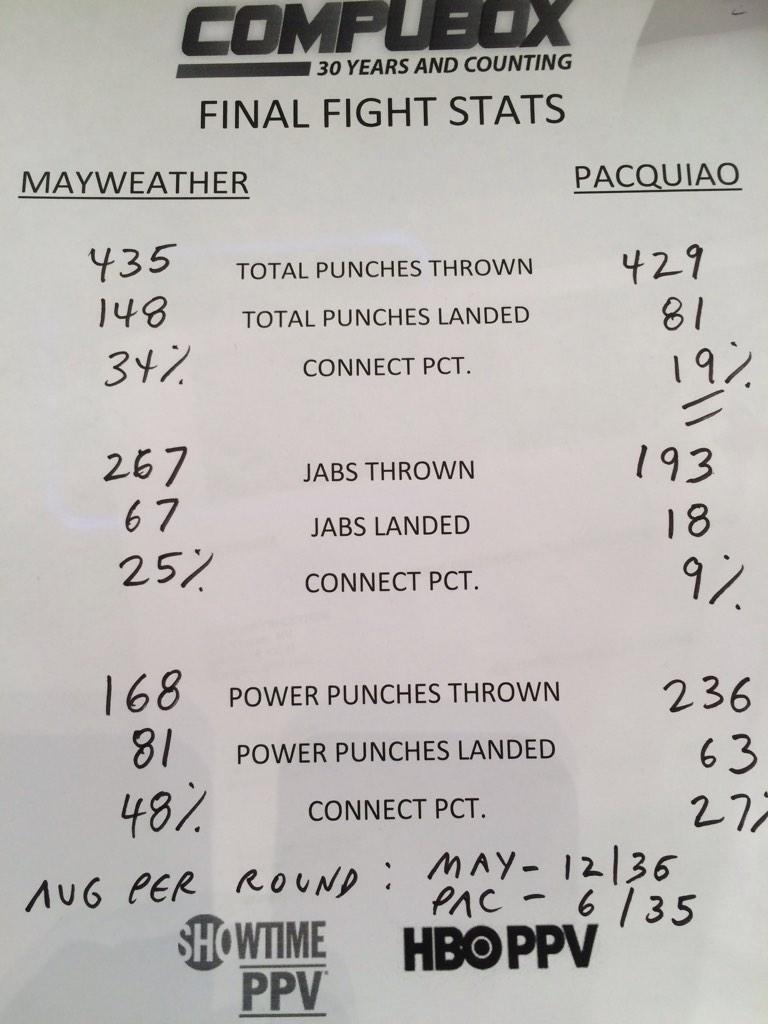 Photo courtesy of CompuBox
In his entire career as a 12-rounder, Pacquiao threw and landed the fewest punches ever recorded by CompuBox. In his last three fights (with Rios, Bradley, and Algieri), he threw an average of 674 punches and landed 35%. This is well above the welterweight class average of 32%. His opponents, meanwhile, threw an average of 533 punches and landed 24%. However, in his last fight, Pacquiao threw 429 punches and landed 19%. Relying more on power punches did not help Pacquiao deliver at least one knockdown to tilt the scorecards in his favor. Also, had Pacquiao even came close to his average in his latest fights, he may have given Mayweather a more difficult bout to survive.
Mayweather, meanwhile, relied on his arm length advantage of five inches by throwing jabs that really bogged down Pacquiao's advance. Five inches is no easy advantage to overcome. This is how long many smartphones today are. While throwing less power punches, he somehow managed to land with better accuracy than Pacquiao.
Pacquiao is not specially known for his accuracy, but he connected with a markedly lower percentage as compared with the average of his last 12 fights (35% of 786 punches). Marquez connected the least number of punches in all of Mayweather's fights, with 69 landing punches. What many people might have not noticed was how low Mayweather's accuracy was as well. His 34% is indeed remarkable for an average welterweight class boxer. However, if one is to take into consideration that Mayweather averaged 43% of 474 punches in his last 13 fights, Pacquiao's performance receives a little more leverage than what it currently has in the perception of laymen. Add to that the 51% of 326 punches that Mayweather landed against Marcos Maidana, the 43% of 481 punches against Oscar De La Hoya, and the 44% of 477 punches against Shane Mosley. Actually, Maidana connected 221 punches against Mayweather, making him deliver the most punches the latter received in a fight in his career as a 12-rounder. It is apparent that Mayweather also had a hard time catching up Pacquiao. His advantage in defense greatly blunted the connection of Pacquiao's punches. This is probably the world's best defense if even the Pacman, who once peaked at 100 punches a round against Antonio Margarito and Joshua Clottey, cannot get through it with his five and six punch combinations.
"I did my best, but my best wasn't good enough."
- Manny Pacquiao in the post-fight conference, seemingly quoting James Ingram's song
Just Once
While most viewers saw this as the world's greatest fun run or hug festival, those within the boxing world may very well see that this is not so. It was a display of how boxing at the world stage goes. If one wants a slug fest, better watch national or local boxing championships. A boxer who gets hit often only stresses his body, and shortens his boxing career in the process. That is why only few ever reach the world stage, and how world champions stay at the top is no simple matter. They take care of their body not only by training, but also by not getting hit as much as they hit. Although, being fair to Pacquiao who sought to bring the action throughout the fight, Mayweather should have been more keen to match Pacquiao's intensity to give the world a fight to remember, not a fight to dismember from memory the world over.
"Its about giving you guys excitement."
- Floyd Mayweather, Jr. in the pre-fight conference, apparently not living up the dream match
Photo courtesy of Getty Images
Still, what we saw is the progressing adoption by Pacquiao of the principle
to hit without getting hit.
More than his fists, which are already strong at more than 800 pounds of force in an ordinary day (heavyweight class boxers normally have 700 pounds of punching force), Pacquiao is now developing his blocks and his speed. It was, however, the first time in many years that Pacquiao was caught by a clinch. Perhaps this is because his previous opponents may have preferred to fight it out rather than to clinch, and this is what excites most boxing fans. Or perhaps, Pacquiao's speed needs a little revival. With Mayweather retiring soon, and Pacquiao needing time to recuperate his injury, the latter might want to have another shot at the unified belt in his home country as his farewell fight. Nothing else so far will be able to match the magnitude of gaining his fifth lineal championship, the undisputed welterweight world champion, in his home country.
See the references here.
Another analysis of the Mayweather-Pacquiao megafight
Reviewed by
Al Raposas
on
Monday, May 04, 2015
Rating: